~ THE SILENT ART GALLERY ヽ(´ー`)ノ ~
(Displayed in order of submission)
Gallery the First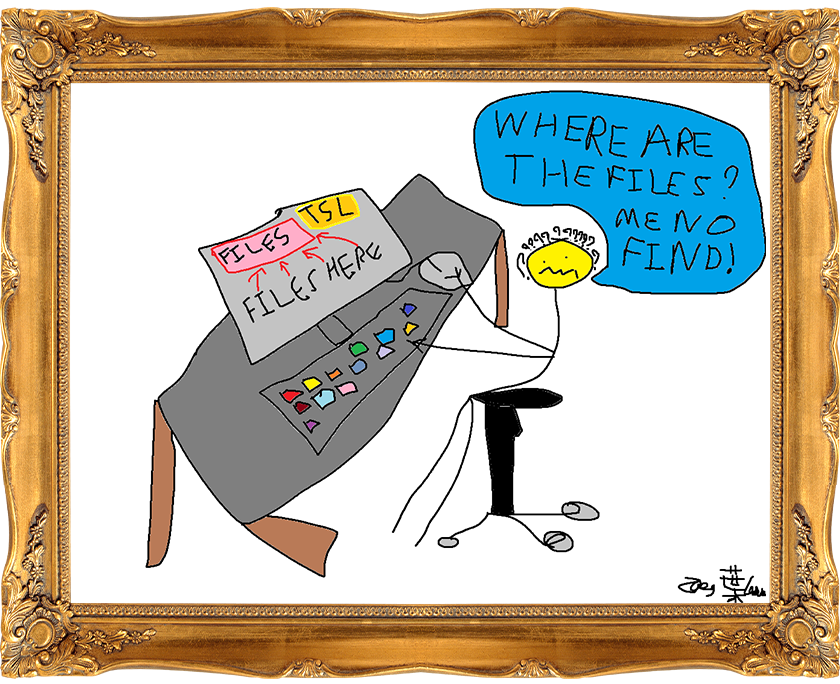 TSL Files by YZC
Contributor YZC demonstrates a novel use of perspective and strong color choices in this piece depicting a Silent Library patron using the site. The desk and chair seem to exist within an extra dimension or two; perhaps this is allegorical of the interstices of the library itself? Take notice of the patron's head: their own questioning nature becomes indiscernable from curly locks of hair. Are we not all in some way warmed by our own ignorance? After careful study and much reflection, one gets the sense that this patron is looking for something; what it is we may never know. "Me no find," indeed.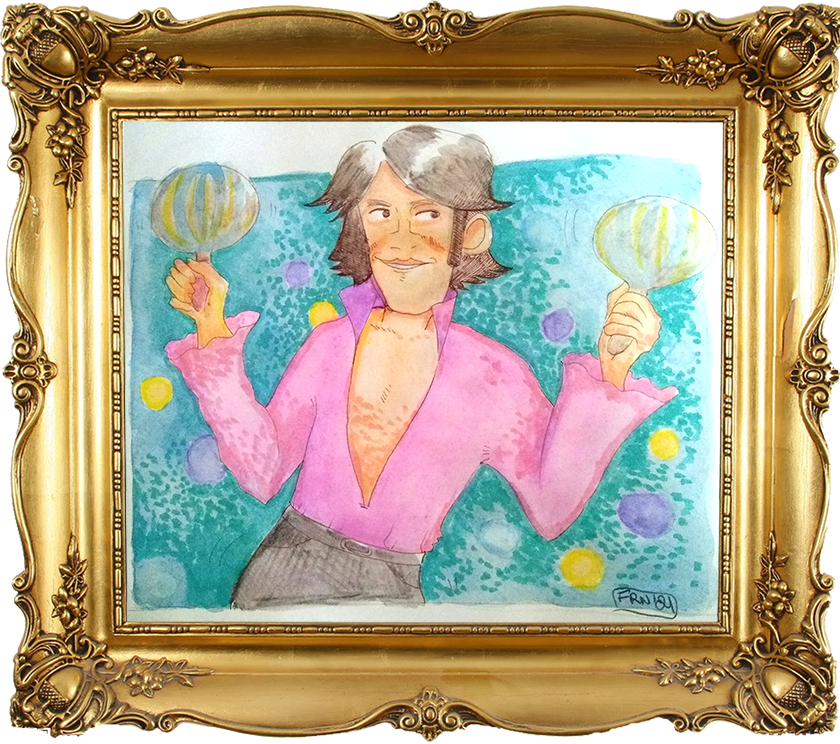 Tanaka Maracas by FRN
Just what is behind the inexorable force that draws art fans to Tanaka Maracas? Is it to do with the titular Tanaka himself? Perhaps the answer is encoded in the shakes of his now-famous maracas? He holds his instruments with a delicacy and kindness that is matched by his gentle smile, and also—one can't help but feel, in his heart. The expertly-dappled shades of sea green and teal seem to thrust him off of the canvas and out into our world, where there is a feeling of safety in the company of Maraca Tanaka. One feels compelled to cautiously probe the depths of the cut (low and long) of his shirt with one's eyes—even as the ears are filled with the soft sounds of his maracas: played as a pair and yet each distinct and hypnotic as the other.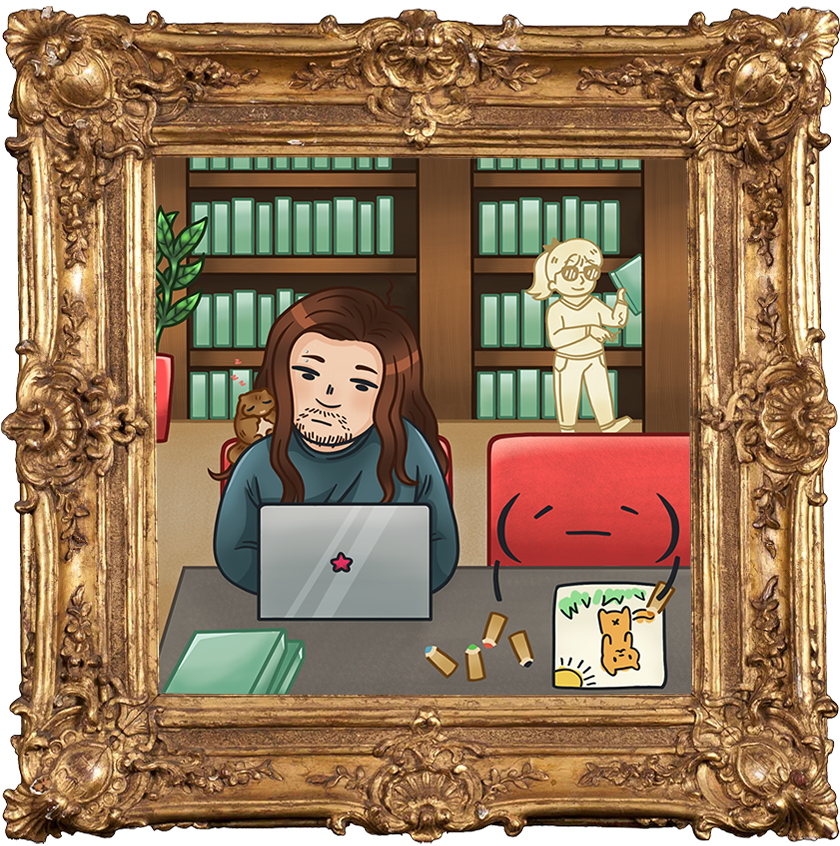 Library by Grub
A consummately-rendered piece, brimming over with lovingly-crafted tidbits of actual Silent Library miscellany! Amongst the mellow gradients and natural tones sits the librarian himself, no doubt attending to critical library business. Atop his shoulder sleeps the proud ムササビ (musasabi), a species of flying squirrel from which a small subbing group takes its name. The kaomoji that is present throughout the library has been rendered as a kind companion, joining the librarian in his ministrations. Though it doesn't seem to be especially helpful, all are content for it to doodle simple cats as a way to while away the hours. Finally, メアリーさん (Mary-san), shades down and cigarette in hand, works diligently in the background and proves herself an efficacious member of the Silent Library team. In this librarian's interpretation, she is representative of all the people who contribute their files and knowledge to line the library's storied shelves.
GnT by Miramizar
Though the characters are stroked boldly and intentionally, their expressions and posture give us some sense of the depth of their camaraderie. Each of the members is rendered here displaying the rapport that they have built on and off the stage together in their decades as co-performers. Traditional garb and accompanying harisen fans lend the composition strong lines that pull one's attention to the members' faces—not individually—but as a whole, further cementing the idea that these five form a single cohesive unit. Above, a calculated use of color spells ガキの使い (Gaki no Tsukai), using the respective established subtitle color for each subject. Such a detail is sure to be appreciated by any eagle-eyed viewer of Gaki no Tsukai content.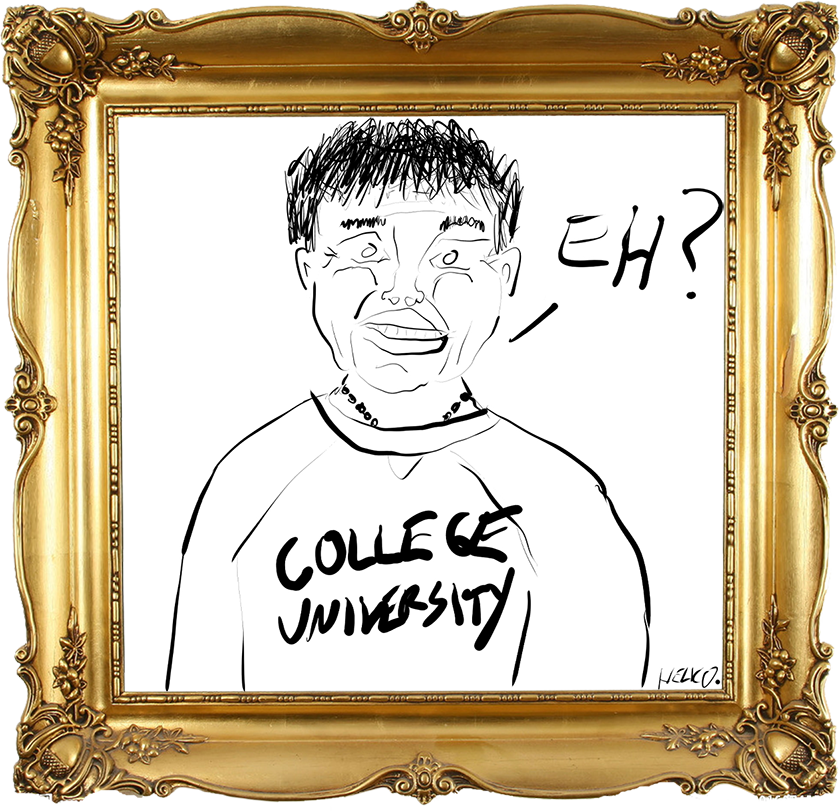 Hamada by Helico
Here before you stands proof that photographic rendering is but one path of many on the journey to expression of a subject's essence. Anyone who knows of Hamada Masatoshi will recognize him instantly from even the most casual glance at Hamada. Stripping away the impediments and harshness of reality, the artist has drunk deep from the pool of the subject's true face and filled a goblet here for all to see. Is there such a university as "College University?" Look past the reality of things and see that the question is immaterial. How does one see Hamada Masatoshi when they peer at him through the lens of this piece? In the same manner that a true and just God must see their creation. As one explores this metaphysical facet of Hamada Masatoshi, one can even hear the inquisitive voice of his soul—crying out: "EH?" Though you must move on from this piece, carry its lessons with you always as Hamada Masatoshi carries the beads about his neck, wrist, other wrist, and conceivably his leg as well.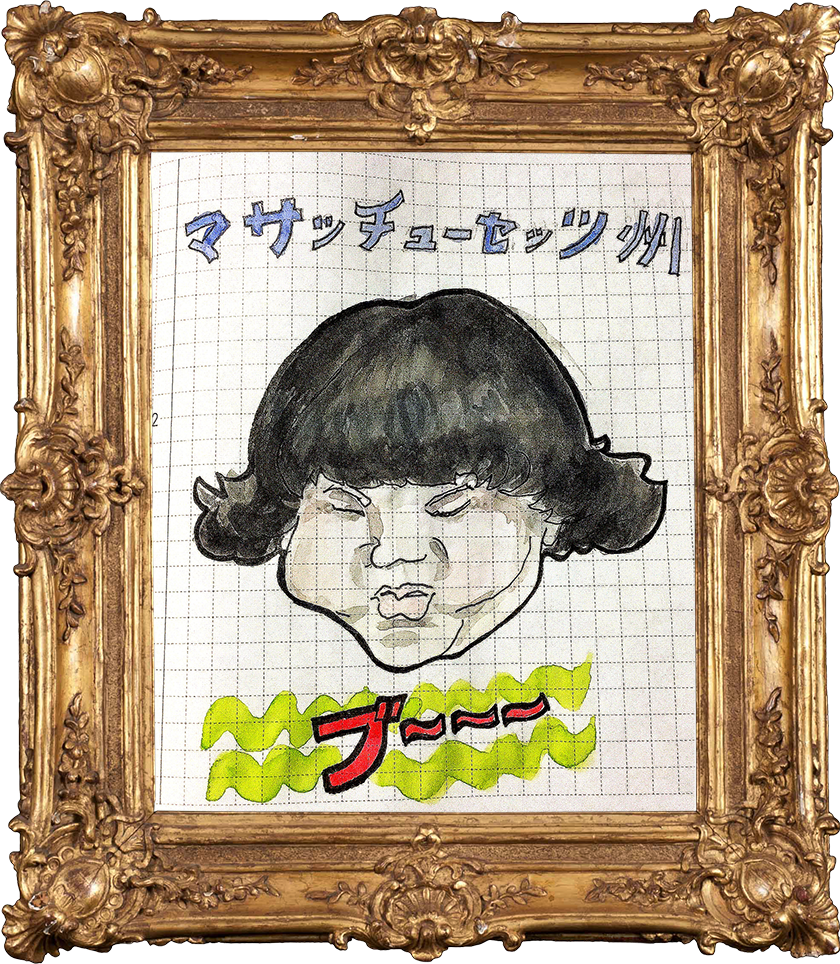 Jimmy by Irismiccase
The stationary grid behind the subject, so regular and orthogonal, cannot suppress the artist's free lines and shading; nor can the rigid rules of grammar hold Jimmy back from expressing the words we all thought we knew in an alternative mode. Behold, Jimmy Onishi: the differently-intelligent talent and artist revered by Gaki no Tsukai fans for his brilliant take on the pronunciation of words. Irismiccasse has depicted him here deep in thought, considering all his options as he prepares to speak the name of the 14th-largest US state: Masssachussets. Jimmy's carefully-layered coal black hair calls to mind smoke, as if from the fires of his burning intellect. Even a native-born US American might second-guess themselves, uttering such a formidable state name . . . Masuchestustu, but not the wily Jimmy-san. Jimmy creases his forehead and pushes the phonemes forth from deep inside and speaks the sacred noun "Masochotsetss" without hesitation and without faltering.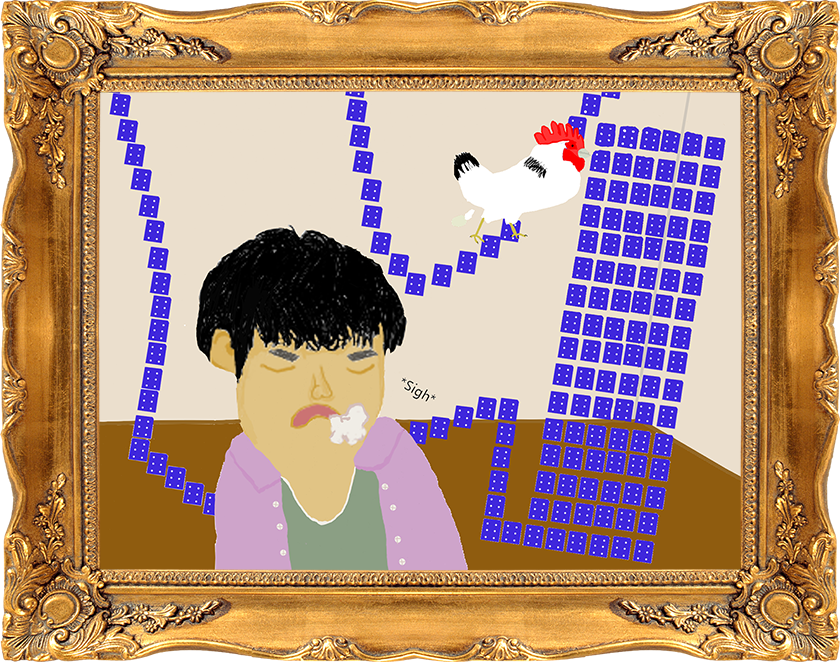 Tanaka Chickens by Sapiens
Tender Tanaka; sweet and gentle Tanaka. We know him as a lover of animals, so how is it that the artist depicts in such a state of frustration over a humble chicken? Perhaps the artist hath erred? No, gentle art critic, for the artist knows that even Tanaka cannot hope to contend with 最もアンコントロールなニワトリ, or "The Most Uncontrollable Chicken." A freshly-laid egg on the floor, uncountable dominos cascading in every direction, the fearsome cry of this foulest fowl ringing in his ears, Tanaka can only close his eyes and sigh a single cloudy sigh. Though Tanaka's jumper has been shaded a delicate lilac and the dominos an ocean blue, the only color the eye can see is the red comb of 最もアンコントロールなニワトリ looming ever larger, collapsing all dominos and eclipsing any remaining hope. Peace was never an option.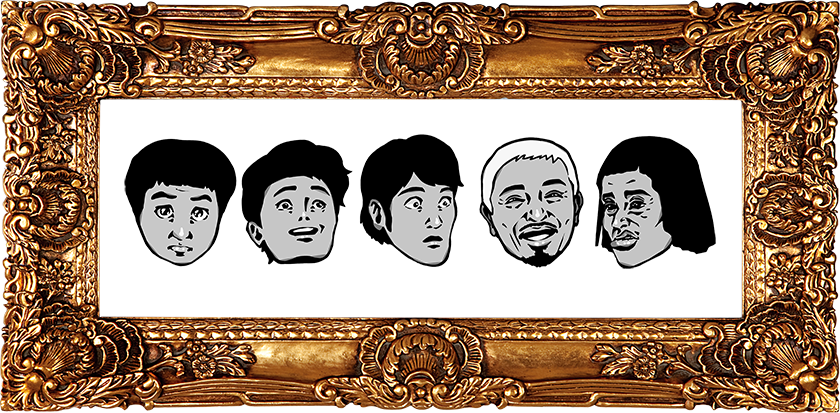 Gaki by Zelbunnii
It is said that between 5 and 87 percent of the human brain is devoted solely to interpreting faces. Few works leverage this so successfully as Gaki, which somehow conveys with five faces the entire spectrum of human emotion. The blackest seas of sorrow, the choking miasma of perplexity, the spreading white-hot waves of utter shock, the pantheonic heights of unbridaled bliss, and also Hamada looks pretty disgusted about something. So much of what it is to be human, packaged and iconified in five tidy grey heads. Magnificent.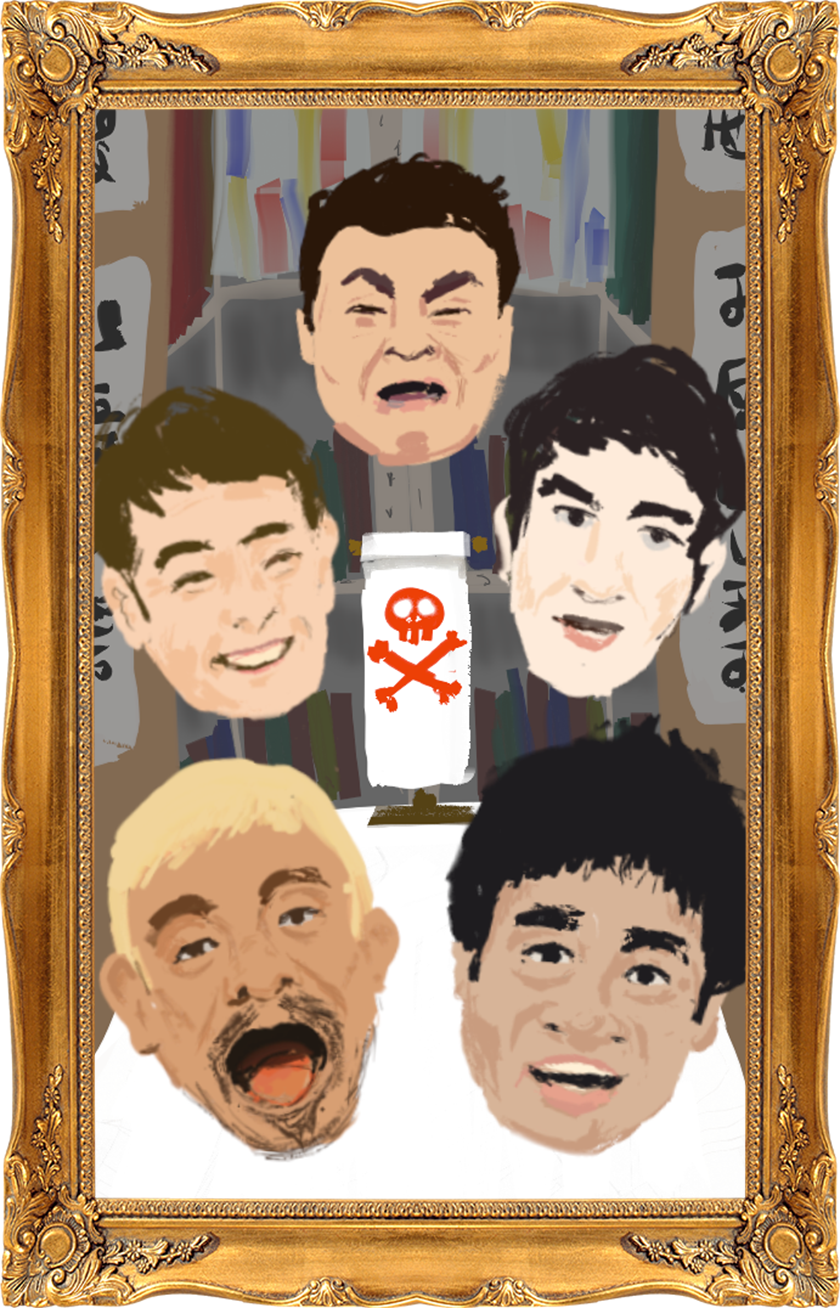 Silent Library by Neeks
How good it is to receive a piece that draws its inspiraiton from the same source as our own Silent Library! Where the archive is a closet of spreadsheets and files, this interpretation is visual and spirited, with a dreamy painterly style! The background is filled with books and color, and what appear to be accurately-written signs; it fills the frame but does not overpower the subjects. Five familiar faces arranged so that you might gaze upon each of them in turn and decide which of them must have drawn this punishment . . . (It's Hosei.)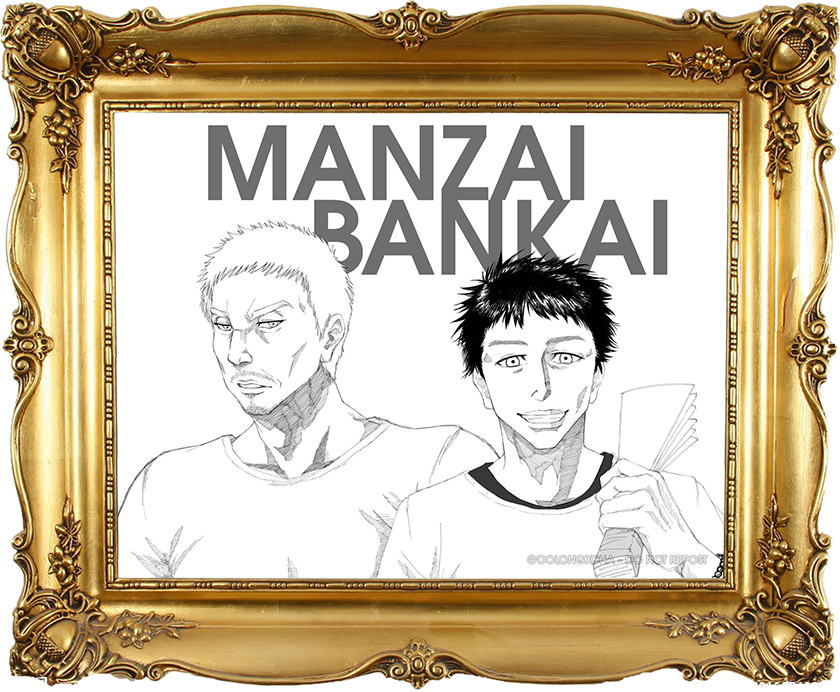 Manzai Bankai by OolongCha
Confident lines, tasteful application of text, delicate shading, and an overwhelming aura of geinin power. Just as an artist strives ever towards a new pinnacle of art, a comedian strives for Manzai Bankai. To achieve Manzai Bankai, a talent must typically train for upwards of ten years. It is said that Manzai Bankai increases the wielder's comedy between five and ten times their base level. Ultimate boke, invincible tsukkomi, get comfortable with those steely shonen-style expressions because their current story arc is going to last for at least 14 volumes. If you have a blood-pumping soundtrack, now is the time to play it.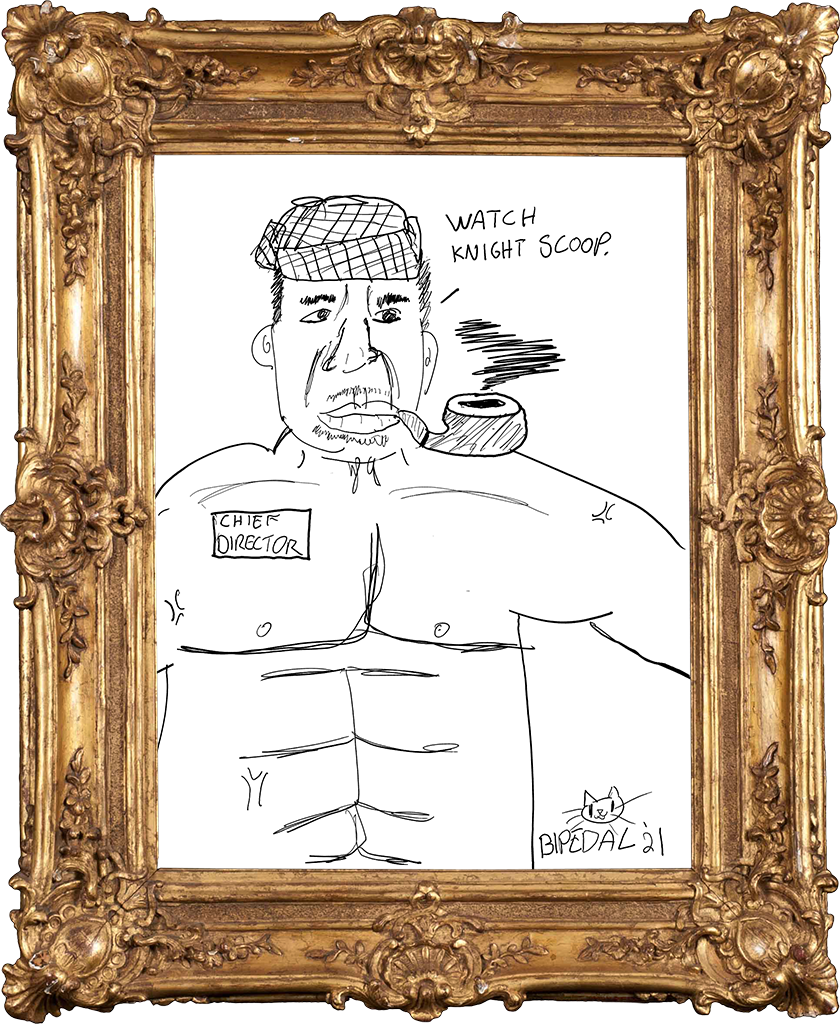 Holmes by Bipedal
Some art just speaks for itself.